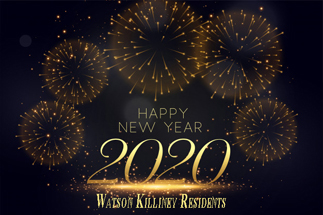 Welcome to Watson Killiney Residents Association website. It is designed to allow residents to keep up to date on current events within the estate and focuses on the all projects associated with the area.
Winter Social Evening
Following on from the Irish Heart Foundation, Hands for Life-First Aid/CPR Training which took place in Johnstown Pastoral Centre in Sept 19.
Watson Killiney Residents Association held a Winter Social Evening in The Graduate, Killiney on 30th November 2019. It was an evening of fun, games & quizes. We raised €1,408 to install an Automated External Defibrillator (AED) in Killiney Shopping Centre area. The target was €1500.
Thank you to all who joined us on this fun night and to the many residents who made donations. Thanks also to the many Local Businesses who donated gifts & spot prizes for this worthy cause.
*******
In response to requests - locations of our nearest Automated External Defibrillator (AED).
The most recent installation is at Tesco Shopping Centre, Churchview Road, Ballybrack, A96 CD72.
See Locations for AED in Ballybrack/Shankill area.

Tidy Districts 2019
Watson Killiney have won runner up prize in the Tidy Districts 2019 under the category 500+ dwellings and over. As part of this project, the residents' committee planted 19 road name stones with perennial, sustainable, pollinators (Bee Friendly) plants on 21st May 19. The plants are now flourishing.

If you spot a plant at any of the road name stones that are in need of some TLC. Please contact a member of the committee.
Read the Judges comments and results here.
Residents are encouraged to keep the area in front of your home, tidy, litter free with the grass maintained.
A grateful BIG Thank You and well done to all who participate.